BIAFO & HISPER TREK
Trip Overview
Itinerary
Service
Terms & Conditions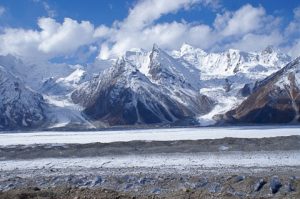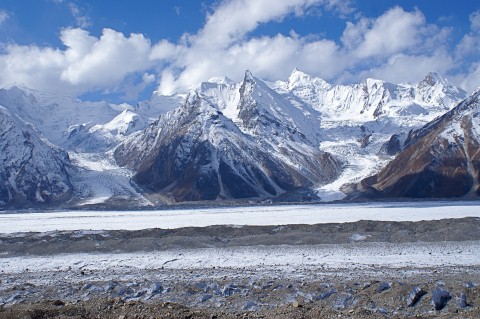 Biafo & Hisper trek runs through one of the most remote and fascinating landscape in all of the Greater Himalayas. Considered the longest non-polar glacier trek in the world (122km) winds through in the core of the Karakorum. This immense high way of ice and stones was historically important for trades between the legendary kingdoms of Baltistan and Hunza. This route was extensively used to connect the Silk Route with the Indian Sub-continent, China and Tibet. Mr. H. W. Tilman an English trekker claimed in 1937 that he had seen the footprints of Yeti on the glacier. Glaciologists after conducting tests on the snow lake confirmed that the thickness of snow is one mile. Here one can observe the rare species of animals in abundance like snow Leopards, Himalayan Bears, Ibex, Markhore. The panoramic Hisper Pass knots together the Biafo and Hisper Glaciers at 5150m high above sea level, forming one of the longest glacier traverses in Pakistan.
The route is embellished with the charms of 'Snow Lake' and the romance of total wilderness prevailing over the whole area. Along the route the famous Snow Lake, a 77 sq. km snow basin ringed by a cirque of virgin jagged peaks and cliff faces.
This 12 days classic trek from Askole of Baltistan to Hisper village in Hunza valley, covers about 190 km making it a continually fascinating trekking experience that not to be missed.
ITINERARY
Day 01: Arrive Islamabad 
Arrive at Islamabad International Airport. Welcome by Blue Sky staff company guide and transfer to Hotel. First we will have lunch and proceed for sightseeing of Islamabad. We will go to Shah Faisal Mosque, Daman-e-Koh for a panoramic view of Islamabad, and markets to see real collection of oriental carpets and others. After a traditional Pakistani dinner we will return to hotel for over night stay.
Day 02:  Fly to Skardu (2350m)
Early hours transfer to airport for flight to Skardu, which is very spectacular mountain flight but very dependant on weather conditions. Alternately, we take two day drive to Skardu, along the Karakorum Highway. We stay overnight at Chilas, over heading by the Nanga Parbat, the second highest peak in Pakistan.
Day 03: Skardu 
In case the flight operate than we have a free day for sight-seeing, acclimatization and preparations at Skardu, the capital of Baltistan and the gateway to great Karakorum mountains. If we are driving the road journey today will be 7-8 hrs to Skardu (275km) along the Indus River. On route are spectacular views of Nanga Parbat (8125m), Haramosh peaks etc. Meals and overnight hotel.
Day 04: Drive to Askoli (3050m) 7/8 hrs
Having an early breakfast we start our jeep journey along the Shigar and Braldu valleys to Askoli village (3050m), the last permanent settlement of Shigar Valley. This seven hours hard drive is an extremely spectacular and fascinating journey through little changed traditional villages and orchards. Overnight in tents.
Day 05:  Trek to Namla (3,400m) 5/6 hrs
After an early breakfast and distribution of luggage among porters, we start the trek and walking along the turbulent waters of the Braldu River, after 2 hours we climb a steep slope to enter into the Biafo glacier. Most of the day we will walk on the boulders and along the lateral moraines. Overnight .in camp
Day 06:  Trek to Manggo (3650m) 5/6hrs
With an early breakfast we start our walk towards Manggo campsite. The first stage of the trek is hard in the boulders and gravels on the Biafo glacier and the second part is comparatively easy along the moraines and summer pastures. Camping at Manggo is fascinating due to its grass and willow bushes and stunning views of the Biafo glacier and mountains. Overnight in camp.
Day 07:  Trek to Baintha (4000m) 6/7 hours
After on hour walk through willow bushes and on the grassy moraine we come down to the Biafo glacier to negotiate the unstable boulders and crevasses to cross the glacier. After the glacier we have easy and gentle walking along the grassy moraines of Baintha. Today we have beautiful views of Latok-1 (7145m), Latok-2 (7108m) and Hisper Pass, with mountain walls on either side rising to 6,000 meters. The Baintha campsite in the ablation valley with dense willow shrubs surrounded by wild flowers makes one of the best camp sites of this trek. Overnight in camp.
Day 08: Rest day at Baintha
Day 09: Trek to Karfogoro (4400m) 7/8 hours.
The early hours of the trek is a lovely stroll along the ablation valley with many small lakes surrounded by willow bushes and wild flowers. After one hour we come down to the Biafo glacier which offers easy walking opportunity with gradual climb over smooth ice. At this point the gravels and boulders are very minimal and are careful for the frequent crevasses.
Day 10:  Trek to Snow Lake (4750m) 2/3hrs
Today we enter into the Snow Lake but when we enter in it than it looks like an ocean of snow. We will  rope up to stay away from the hidden crevasses. With steady plod we arrive in two hours to the junction point of snow lake and Simgang glacier. We camp at around 4,900 m in a flat bowl near the pass.
Day 11: Trek Across Hisper Pass (5150m) to Khani Basa 6/7 hrs
With sunrise and in 2 hours we will reach at the top of the pass. From the top of Hispar Pass (5150m), some of the finest views of the Karakorum, Ogre Peak (7285m) in the background of Snow Lake's wide plateau and Hispar Glacier stretching as far as eye can see, with the white pyramid of Workmann peak to its north. After a refreshment and photo stop we will proceed to another side of the pass which takes three hours to reach our campsite at Khani Basa. Most of the day we will walk through deep soft snow in single file with rope to avoid the hidden crevasses.
Day 12: Trek to Yutmuro Glacier (4300m) 5/6 hrs
Today we will traverse through and cross the Khanibasa glacier that takes around 2 hours. During the day we have spectacular views of Kanjut Sar 1 (7700m) and the glaciers. The great numbers of the wild flowers makes again this day pleasant. Camp at Yutmar which is an ablation valley.
Day 13: Trek to Bitanmal (3600M) 6/7 hrs
An easy stroll through ablation valley brings us to Yutmaru glacier, that takes around 2 hours to reach the view point of Hisper Pass in the backdrop. The campsite of Bitanmal is filled by willow bushes and wild flowers. Overnight in camp.
Day 14:  Trek to Hisper
3 hours easy walking along the Hisper river takes us to Hisper (3100m) village. From where we ends our trekking.  overnight in Camp.
Day 15: Drive to Karimabad
After breakfast board on jeeps for 3 hours drive through Nagar Valley to Karimabad, the capital of Hunza valley. From the window of your hotel room you can see Ultar peak (7400m) Rakaposhi (7788m), Golden Peak (7027m) and many others. Meals and overnight at hotel.
Day 16: Karimabad
Free day at Karimabad with optional visits to Altit and Baltit forts. The beautiful Hunza Valley will warmly welcome you from your long trek. The rich fruit orchards, the unforgettable views of Rakaposhi Massif, Nagar Valley, and Ultar Peak in the backdrop of Baltit Fort, and not less a comfortable hotel room make Hunza a real Shangri-La.
Day 17: Drive to Besham
Approximately 12 hours drive on Karakorum Highway and with views of Nanga Parbat we arrive Besham for overnight in hotel.
Day 18: Drive to Islamabad
8 hours drive to Islamabad. Overnight at hotel.
Day 19: Onward
Transfer to airport for onward flight. End of services
SERVICES INCLUDED
1.  Airport to hotel on arrival & hotel to airport on departure.
2. Islamabad Local transport
3. Hotel accommodation with bed & breakfast in Islamabad three nights.
4. Flight ticket Or Transportation from Islamabad/ Skardu /Karimabad/ Islamabad with all trekking luggage.
5. Three nights in Skardu full board (Breakfast, lunch, and Dinner)
6. Jeeps Skardu/ Askoli/Hisper Village/ Karimabad.
7. Wages, insurance, food of Guide,
8. Wages, insurance, food of Porter Sirdar
9. Wages, equipment, insurance, food of cook
10. Wages, equipment, insurance, food of Assistant cook
11. Porter Payment, Low altitude porters
12. Personal Baggage, 20 kg
13. Full board camping food during trek.
14. Mess tent Kitchen tent, table, chairs & kitchen equipment.
15. Camping fees, road taxes & bridge crossing of trekking members & Porters.
16. Porters and, Cooking Equipment
17. DV-4  tents for members
18. Fuel, Tarpaulin, food and Stove for porters.
19. Guide Hotel, Insurance, Transports
20. Kerosene Oil for Members
21. Toilet tent & Shower tent
SERVICES NOT INCLUDED
1. Sleeping bags, rucksacks and personal clothing.
2. Medication, ground evacuation and helicopter rescue Deposit US$15000/ charges of any kind.
3. Room services, laundry charges, beverages and items of personal nature.
4. Phone /communication bills.
5. Insurance or liability of any members.
6. Islamabad Hotel Lunch and Dinner.
Terms and Conditions
RESERVATIONS/PAYMENTS:
A non-refundable deposit of $300 or 15% of the tour is required in order to make a reservation with the company. Total balance is due 3 weeks prior to departure. When price once fixed then any extra expenses will be charged to the client.
MODE OF PAYMENT:   Bank Transfer:
Name of the Bank:

Askari Bank Limited Kushu Bagh




Branch Skardu

Account Title:

Blue Sky Treks & Tours

Account No:

PK19 ASCM 0002 1901 0000 4810

Swift Code:

ASCMTKKA
CANCELLATION & REFUND
Before 3 weeks prior to departure, the deposit is non-refundable. Within 3 weeks, 50%, whichever is less, is non-refundable. once the tour starts 100% is non-refundable. There will be no refund for unused services.
CHANGES TO ITINERARY:
The Blue Sky Treks & Tours have made attempts to make the itineraries accurate but the company has reserved the right to change itinerary under unfavourable conditions. In such circumstances the company will provide similar alternatives. We welcome any changes before final booking.
BAGGAGE:
On treks and safaris 20 kg and on expeditions 50kg will be free.
LIABILITIES:
The Blue Sky Treks & Tours will do its best to make the tours comfortable and secure. However, the company shall not responsible for any kind of injury, damage, death, loss, accident, delays, public disturbances, and all those that beyond our control.
INSURANCE AND TRAVEL RISKS:
It is important for the clients to purchase a travel insurance package in their own country, hence no foreigner will be able to purchase an insurance in Pakistan. Trekking, expedition, tours, safari may involve risks and several other factors that cannot be foretold. Medical emergencies, natural calamities are common in high altitudes and we like to be assured that our clients are insured against helicopter evacuations, trip cancellations, and personal accidents so that they don't have to suffer.
It is to be noted that the company shall not bear any losses or provide compensation in case the guest's insurance doesn't cover any or all aspects of the trip.
---
Fixed Departure  - 2024
---
FACT SHEET
| | |
| --- | --- |
| No. of Days: | 19 |
| Season: | June- Oct |
| Grade: | Demanding |
| Zone: | Open |
| Region: | Karakoram |
| Max Altitude: | 5150M |