BROAD PEAK 8047 M
Trip Overview
Itinerary
Service
Terms & Conditions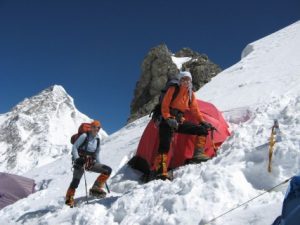 Just beside K-2, the breadth-toped 8047m high Broad Peak offers a unique climbing option. In the year of 1957 an Austrian team consisting some of the legendary mountaineers assaulted the summit for the first time. It is the 3rd highest in Karakoram Range and fourth highest in Pakistan. Owing to its unusual wide top, locally known as 'Falchan Kangri' and also bear the name of triple-headed Breithorn of Baltoro Glacier. The peak is located on the west end of the Baltoro glacier. A five days trek via Baltoro glacier takes up to the Broad Peak base camp.
ITINERARY
Day 01 Islamabad
On arrival Blue sky Treks & Tours guide will transfer you to hotel. Afternoon Shopping and a sight-seeing trip will take you to the twin cities of modern capital Islamabad and the old city Rawalpindi. Overnight will be in hotel.
Day 02 Skardu / Chilas
a) Fly to Skardu PK-451 (10:30AM). (Flight is subject to weather). Upon arrival transfer to hotel for overnight.
b) In case of cancellation of flight (12-14 hrs) drive by coach to Chilas (480 km) on Karakoram Highway. Overnight in hotel
Day 03 Chilas / Skardu (2350m)
a) Day free at Skardu
b) If you are driving, complete road journey (07 - 08 hrs) to Skardu (275 km) En-route has good view of Nanga Parbat (8125m) at junction of Indus River. Afternoon welcome reception (briefing) at Ministry of Tourism Office Skardu. Overnight in hotel.
Day 04 Askole: (3050m)
Having an early breakfast we start our jeep journey (6-7 hrs) along the Shigar and Braldu valleys to Askoli village (3050m), the last permanent settlement of Shigar Valley. This six or seven hours hard drive is an extremely spectacular and fascinating journey through little changed traditional villages and orchards. Overnight in tents.
Day 05 Jhola: (3200m)
After an early breakfast and distribution of luggage among porters, we start the trek (6 hrs) and walk along the turbulent waters of the Braldu River towards Jhola(3200m). Most of the trek is an easy walk on established trails except the rocky snout of the Biafo Glacier which we cross and continue to up to Jhola camp site situated just after the confluence of the Braldu and Dumordo Rivers. Meals and overnight in tents
Day 06 Paiyu: (3450m)
Start on a relatively easy trail for 3-4 hrs. Crossing Bardumal campsites along a 2-km stretch of sandy River beach. After a lunch break continue towards Paiyu for another 2-3 hrs. trail climbs to a Vantage Point providing view of the Snout of Baltoro. The Masherbrum group on our right side and whilst ahead of us we gradually begin to see the spires and towers of Trango and Cathedral groups. Today we will also see the snout of the Baltoro Glacier. Dinner and overnight in tents.
Day 07: Paiju: (3450m)
A relaxation, acclimatization and preparations day at Paiju. Meals and overnight in tents.
DAY 08: Trek to Urdukas (4,200m)
Today we will cross the Baltoro Glacier which is hard but rewarding with the fascinating views of Paiju Peak, Trango Towers, Lobsang Spires, Grand Cathedral, Uli Biafo and many other needle like rock peaks.. We cross the glacier to the southern side and continue along an ablation valley to our campsite at Urdukas. Meals and overnight in tents.
DAY 9: Trek to Goro (4,300m)
Trek to Goro from Urdukas is easy due to the bare glacier. There are breathtaking views all around us. Heading ahead there are Broad Peak (8047m) and Gasherbrum-IV (7925m) on the right side the Mashabrum Group and the left the Trango group of peaks situated. 4-5 hours trekking and overnight in tents.
DAY 10: Trek to Base camp (4,850m)
After three to four trek trek, we will reach Concordia, the Throne Room of the Mountain Gods. All around us guarding by the world's highest peaks including the K2 (8611m) the second highest mountain in the world, Gasherbrum I (8068m), Broad Peak(8047m), Gashabrum-II (8035m) and Chogolisa (7665m). After lunch we will trek to Broad Peak Base camp. Overnight in camp.
DAY 11 TO 42: Climbing and acclimatization.
Trek back to Hushe via Gondogoro La
Or
Day 43: Shaqspong
We starts begin the return trek descending first to Shaqspong(4100m) where we have magnificent views of the surrounding granite spires and towers. Overnight camp
Day 44: Paiju
Trek start early morning and crossing the Baltoro glacier to its north side beneath the towers of Uli Biaho we finally climb down its snout to reach a good trail back to the spring oasis of Paiju. Overnight camp
Day 45: Jholla
Trek back to Julla following the Braldu River downstream, to Julla . Overnight camp
Day 46: Askoli
The final day of trekking to the village of Askole. Here we say goodbye to our porters who will return to their villages. Overnight camp
Day 47 Skardu: (2340m) by jeeps drive to Skardu (6-7 hrs) afternoon de-briefing in the Ministry of Tourism Office Skardu. Overnight in hotel
Day 48 Islamabad / Chilas
a) Fly to Islamabad PK-452 (12:20). (Subject to weather). Upon arrival transfer to hotel.
b) In case of flight cancellation drive to Chilas. Overnight at hotel.
Day 49 Leisure day at Islamabad
In case of driving, complete road journey from Chilas to Islamabad. Overnight at hotel.
Day 50 Fly Out Transfer to airport for your return flight home.
SERVICES INCLUDED
Airport pick and drop
Hotel accommodation, twin bed room in Islamabad. Three night's standard Hotel air-condition rooms.
Flight Ticket or transportation from Islamabad/ Skardu/ Islamabad with all expedition luggages.
Three nights in Skardu Hotel (bed & breakfast)
Two nights in Chilas/ Besham hotel (bed & breakfast) incase of flight cancellation.
Jeeps Skardu/Askoli/ Hushe/ Skardu.
Wages, insurance, food equipment of cook
Wages, insurance, food equipment of Assistant cook,
Wages, insurance, food of Porter Sirdar
Porter Payment, Low altitude porters.
Personal Baggage, 75 kg (going time) and 50 kgs (on return).
Full board camp food during trek & at base camp.
Mess tent, Kitchen tent, store tent, table, and chairs & kitchen equipment.
Reconfirmation of international flight tickets.
Camping fees, road taxes & bridge crossing of expedition members & Porters.
Porters Equipments
Assistance in obtaining climbing permit and other documentation's
Briefing and debriefing in the Ministry of tourism
CKNP fee: US $ 68/per member
1000 US$ guarantee pollution fee.
200 US$ environmental protection fund.
Fuel, Tarpaulin, and Stove for porters.
Kerosene Oil for porter and Members
Toilet tent and shower tent
Members will have individual DV-4  tent and mattresses at Base camp.
LO insurance, transport, and hotel, equipment and TA/DA.
Royalty fee and additional member fee
SERVICES NOT INCLUDED
Climbing food, equipment, high altitude Porters wages
Sleeping bags, rucksacks and personal clothing.
Medication, ground evacuation and helicopter rescue (US$15,000) of any kind.
Room services, laundry charges, beverages and items of personal nature.
Phone /communication bills.
Insurance or liability of any members.
Tip to staff
Custom clearing and forwarding agent's charge.
Terms and Conditions
RESERVATIONS/PAYMENTS:
A non-refundable deposit of $300 or 15% of the tour is required in order to make a reservation with the company. Total balance is due 3 weeks prior to departure. When price once fixed then any extra expenses will be charged to the client.
MODE OF PAYMENT:   Bank Transfer:
Name of the Bank:

Askari Bank Limited Kushu Bagh




Branch Skardu

Account Title:

Blue Sky Treks & Tours

Account No:

PK19 ASCM 0002 1901 0000 4810

Swift Code:

ASCMTKKA
CANCELLATION & REFUND
Before 3 weeks prior to departure, the deposit is non-refundable. Within 3 weeks, 50%, whichever is less, is non-refundable. Once the tour starts 100% is non-refundable. There will be no refund for unused services.
CHANGES TO ITINERARY:
The Blue Sky Treks & Tours have made attempts to make the itineraries accurate but the company has reserved the right to change itinerary under unfavourable conditions. In such circumstances the company will provide similar alternatives. We welcome any changes before final booking.
BAGGAGE:
On treks and safaris 20 kg and on expeditions 50kg will be free.
LIABILITIES:
The Blue Sky Treks & Tours will do its best to make the tours comfortable and secure. However, the company shall not responsible for any kind of injury, damage, death, loss, accident, delays, public disturbances, and all those that beyond our control.
INSURANCE AND TRAVEL RISKS:
It is important for the clients to purchase a travel insurance package in their own country, hence no foreigner will be able to purchase an insurance in Pakistan. Trekking, expedition, tours, safari may involve risks and several other factors that cannot be foretold. Medical emergencies, natural calamities are common in high altitudes and we like to be assured that our clients are insured against helicopter evacuations, trip cancellations, and personal accidents so that they don't have to suffer.
It is to be noted that the company shall not bear any losses or provide compensation in case the guest's insurance doesn't cover any or all aspects of the trip.
---
Fixed Departure Broad Peak - 2023
16th June 2023
---
FACT SHEET
| | |
| --- | --- |
| No. of Days: | 50 |
| Season: | June- September |
| Grade: | Challenging  |
| Zone: | Permit Needed |
| Region: | Karakoram |
| Max Altitude: | 8047M |